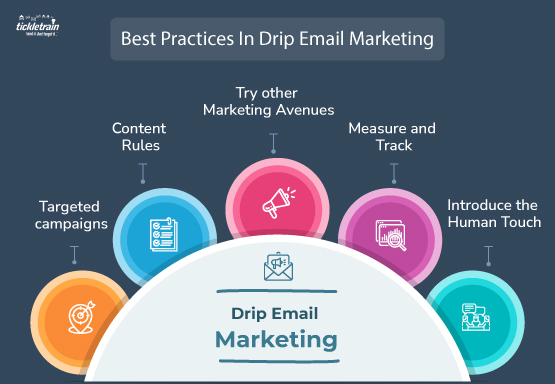 Best Practices In Drip Email Marketing - updated
February 16th, 2014
Our previous blog post talked about what drip email marketing is. Today we want to cover some best practices for drip email marketing. Why are we covering this topic 2 blog posts in a row? Because TickleTrain makes it easy to drip out emails. Watch this video to learn more or register for a free trial.
OK, let's dive in... Drip email marketing normally seeks to funnel potential consumers down the sales conversion channel. Although this process may sound sophisticated and exotic, it is quite simple to execute. It usually involves autoresponders, or a tool like TickleTrain, that can send information to consumers via email.
This information could be text, audio, or video-based. It is important to note that consumers only receive relevant information after taking an action such as signing up for an offer.
Here are some of the top drip email marketing best practices:
Targeted campaigns It is wise to create a drip email marketing campaign that targets specific demographics in your customer pool.
You should not just send emails to anyone with an email address. For example, you could use online browsing behavior to target a demographic that only watches videos posted on your website.
If you send this email message that contains embedded videos, they are highly likely to open and watch the information you have sent. You could also segment your audience based on various demographics such as age, income, gender, etc.
Content Rules When it comes to drip marketing, you cannot afford to send substandard content to your consumers. The rule of thumb is to come up with good, informative, and useful content. Make sure that consumers can easily consume the information they receive from you. For example, text-based information should have catchy titles and easy-to-read paragraphs.
Other tricks that you could employ include the use of subtitles, statistics from respected sources, and numbered lists. If you opt to use video content, make your story and presentation compelling.
Try Other Marketing Avenues When carrying out a drip marketing campaign, you do not have to restrict yourself to just email to reach consumers -- diversify! You could use other non-email-based techniques and tools to send information to the same target audience.
For instance, you could send automated audio messages sent to your consumer's voicemail boxes. Alternatively, you could send text messages, Facebook posts, or even tweets. It is up to you to use your imagination to come up with a creative way of reaching consumers.
Measure and Track It's important you monitor, track, and gather as much data as you can about actions and responses taken by your audience. Thorough data analytics will help you determine which segments of your audience require more attention.
Introduce the Human Touch If a consumer shows interest in your drip marketing campaign, you should consider introducing a human element into the communication channel.
This is because such a prospect could require detailed information that a drip campaign might be unable to provide. In addition, only a human can point such a prospect to the right salesperson or customer care representative.
All in all, a drip marketing campaign makes it easy to utilize automated tools to reach many consumers. It also reduces manual processes that may require extensive and time-consuming input from your sales team.
Nevertheless, you should follow best practices such as targeted campaigns, creating unique content, introducing a human element when a prospect shows interest, as well as thinking outside the email box.