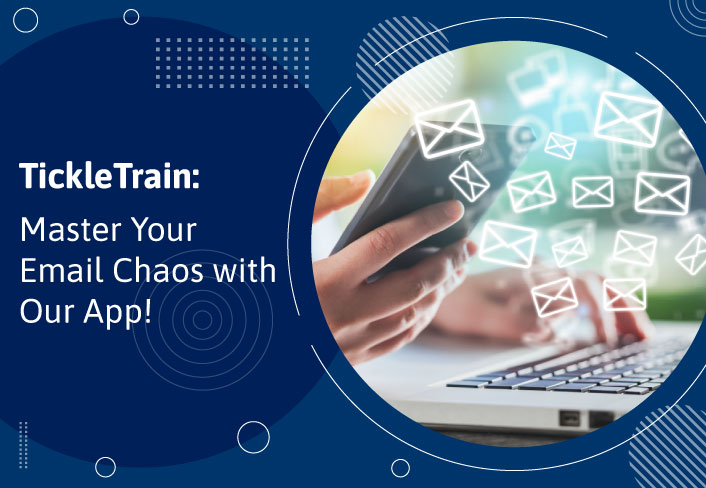 TickleTrain: Master Your Email Chaos with Our App!
August 17th, 2023
Today's fast-paced digital environment has made effective email management more of a need than a luxury. If not properly managed, the constant barrage of emails can soon result in confusion and lost opportunities. To streamline your email conversation, automate follow-up emails, and easily turn emails into tasks, TickleTrain, a cutting-edge Email Management App, steps in.
TickleTrain helps people and businesses to retake control over their email correspondence like never before because of its user-friendly interface and strong functionality.
Uncomplicated Email Management
TickleTrain is focused on the difficulties of controlling an overloaded inbox. You may easily organize, prioritize, and answer emails with the app's comprehensive solution. You can easily recognize the most crucial emails because of its user-friendly design, which presents your emails in an orderly and clear manner. Alone, this feature drastically cuts down on the time and effort needed to sort through emails, increasing the efficiency and concentration of your workday.
Auto-Responder Email
The Auto Follow-Up Email feature of TickleTrain is one of its most notable features. We've all felt frustrated after sending a crucial email and getting no answer. You can make sure that crucial messages are never missed or forgotten using TickleTrain. You can program automated follow-up emails through the app to gently remind recipients to reply to your initial communication. For professionals who depend on prompt responses for their jobs or business endeavors, this capability is a game-changer. You won't have to manually keep track of responses or be concerned about opportunities lost from a lack of follow-up.
Conversion of Email to Task
TickleTrain enhances email productivity by integrating email into your task management workflow in a smooth manner. You may quickly convert essential emails into doable tasks using the "Email to Task" conversion tool. This feature gives you a unified platform for effective organization by eliminating the need to switch between your email and task management apps. You can easily turn emails into tasks so that nothing gets missed and your to-do list always remains up-to-date and managed.
TickleTrain's Operation
TickleTrain is easy to use and quite efficient. You'll be greeted with a simple dashboard showing your emails after downloading the app and logging in using your email account. The "Auto Follow-Up" option in email composition lets you set reminders for recipients who haven't replied, keeping your communication on track.
TickleTrain makes it simple to turn emails into tasks. When you locate an email that needs action, you may quickly click to convert it into a task. You may manage your workload without having to jump between applications because this task will be seamlessly incorporated into the task management system you've chosen.
Your Productivity Friend
TickleTrain is your productivity partner, not just an Email Management App. TickleTrain gives you the power to take control of your communication and remain on top of your obligations by optimizing your email routine, automating follow-up emails, and easily transforming emails into tasks. TickleTrain is the tool you've been looking for, whether you're a busy professional, an entrepreneur, or just someone who wants to get rid of email overload.
Winding Up
TickleTrain is a revolutionary Email Management App created to aid both people and companies in taming email pandemonium. It is a must-have tool for anyone looking to increase their productivity and communication effectiveness due to its user-friendly layout, Auto Follow-Up Email feature, and seamless Email to Task conversion. You can confidently navigate the world of email communication with TickleTrain at your side, making sure that no opportunity is missed and no task is left unfinished. TickleTrain is here to revolutionize the way you handle your inbox, so say goodbye to email overload.