The Email Management Tool that Turns Your Inbox into a Productivity Powerhouse.
What if one simple tool helped you:
Stay on top of your to-do list

Track tasks you delegate

Provide easy collaboration with your team

Automate your follow-up emails

Schedule drip emails
Whether you are on-the-go or at your desktop and no matter what email program you use, you can put TickleTrain to work right from your inbox.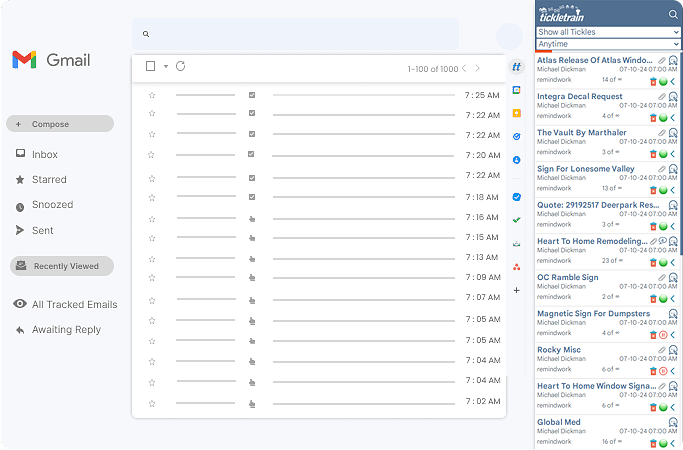 Peace of Mind with Every Email You Send
TickleTrain is so simple to use. Just compose your email and with a click of a button TickleTrain can create a:
Follow-up email if you don't get a reply

Task reminder for your to-do list

Task delegated to someone on your team

Scheduled series of drip emails
and much more...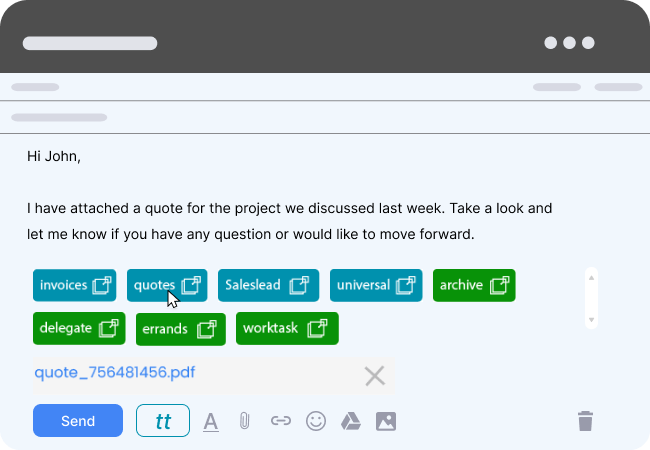 Is it Getting Difficult to Keep Track of Emails?
Never worry about staying on top of your to-do list again! Get your to-do list out of your brain and into TickleTrain.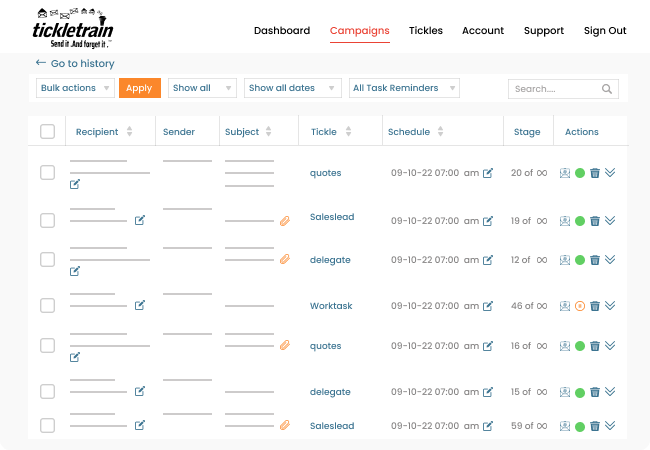 Send it. And Forget it.
TickleTrain puts you in control of automating your communications with contacts while providing a powerful to-do list manager so nothing gets lost in the shuffle.
Gain mental clarity and peace of mind without leaving your inbox.
We like to say "send it and forget it" since TickleTrain now does all the work for you assuring nothing falls through the cracks.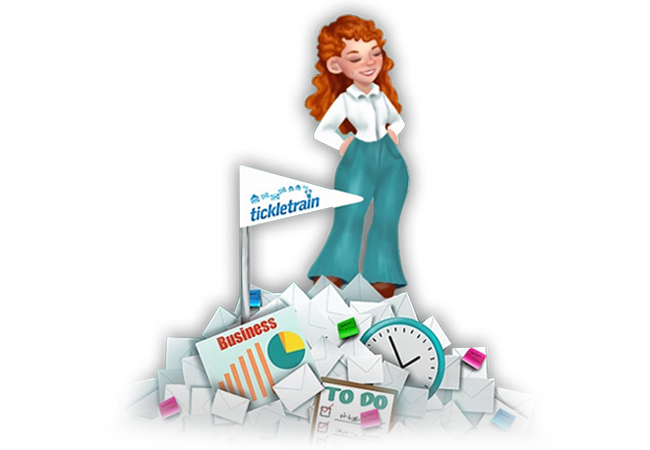 TickleTrain. One Simple Tool. Four Powerful Functions.

Turn Emails into Tasks
Gain peace of mind by easily turning your emails into tasks and effortlessly stay on top of your to do list without leaving your inbox... Learn More

Delegate and Collaborate
Collaborate on tasks with people on your team and stop stressing about delegated tasks falling through the cracks. TickleTrain keeps track of them for you... Learn More

Auto Follow Up
Never forget to follow up with your leads. Let TickleTrain follow up for you with your personalized, pre-written emails... Learn More

Email Scheduling
Set-up drip email sequences in a matter of minutes and deliver a polished appearance by using our built-in email templates... Learn More
TickleTrain's Gmail Extension
The ultimate solution for managing your inbox and following up on leads.
Deep integration with Gmail.

Manage follow-up and delegated emails.

Reply tracking and email open tracking.

Convert emails into tasks.

Add notes and files to your tasks.

Add files to your tasks.

Collaborate on tasks.
If you are a Gmail user, don't delay installing TickleTrain's Chrome Extension.

RED LINE
$8.95 / mo
(when billed annually)
Use with up to 3 email addresses*
Unlimited Campaigns
Unlimited Tickles
25 MB storage for each Campaign
1 GB total storage included
Gmail Chrome Extension
Priority email support

RED LINE PLUS
$18.95 / mo
(when billed annually)
Use with up to 10 email addresses*
Unlimited Campaigns
Unlimited Tickles
50 MB storage for each Campaign
5 GB total storage included
Gmail Chrome Extension
Priority email support
* Add additional email addresses for $2.50/mo (when billed annuailly)
Frequently Asked Questions
- It follows up on emails for you when you don't get a reply; providing peace of mind every time you click send.
- It can convert an email into a task reminder with one click.
- It can also drip emails to any contact with different email content on a schedule you determine.
- It can delegate tasks to others with one click, complete with tracking and notifications built-in.
- It supercharges what you can do and how you interact with email.
- No. You just need to enter your SMTP settings so TickleTrain can send emails on your behalf. If you use Gmail or Yahoo (or some others) you'll set up a unique password to use with TickleTrain. We have help videos that walk you through that. And it comes preloaded with Tickles ready to use!
You compose emails on our website and save them to be used over and over. These are called "tickles." This series of prewritten emails is given a unique email address. To trigger the prewritten emails and the scheduling you configured, just insert the special email address in the TO, CC, or BCC field of the email you are sending. Depending on the field and the type of tickle created, the services provided by TickleTrain will vary- from delegating, creating tasks, or enabling auto follow-up.This workflow is super easy to use, but amazingly powerful since email is so handy on any device you might be using and also integrated into just about any other app you might be using.
This app is awesome, it has significantly improved my work helping me to manage and utilize my emails more easily. Simple to use but powerful.
It was quite difficult for me to stay updated with the assigned tasks I send to my employees and I have to send follow-up emails quite often. But TickleTrain`s auto follow-up feature makes it an easy and effortless process. I found this tool very helpful in terms of creating tasks directly from my emails and collaborating with my team. It really is awesome – if you are on the fence, I suggest giving it a try. I love it and I use it on daily basis.
I use TickleTrain for all my email management tasks. It's easy to create a task for an email and get reminded about it. It also reminds my coworkers of tasks we are working on together so everyone is on the same page. It was pretty easy to set up and the integration with Gmail is terrific – but I can also use it with Outlook and Apple Mail on my laptop. I love it and I use it on daily basis. It's user-friendly email management that works the way I do.
I am using TickleTrain for a long time. Now I can better follow my Prospects, convert more leads, and track them easily. It allows me also to keep my focus on other valuable things other than follow-ups, task updates, and other email functions.