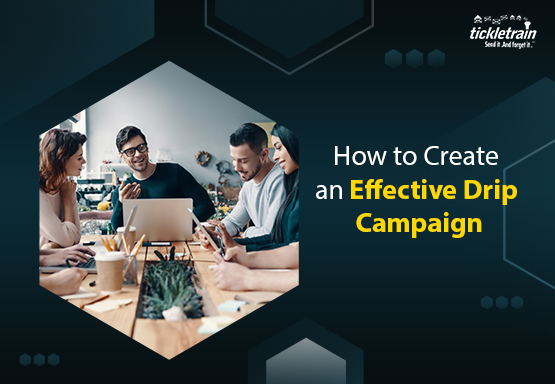 How to Create an Effective Drip Campiagn
November 1st, 2015
Drip, drip, drip… that leaky faucet will either drive you mad or push you to fix it. The same is true of those niggling tasks you know you should be doing, but can't find the time or inclination.
You will either end up giving up and settling for business as usual — or you'll get it done. One of the most persistent niggling tasks small business owners deal with is consistent follow-up with prospects. An effective drip campaign is a right tool for this job.
A drip campaign is a targeted email strategy that keeps your name in front of your prospects, nudges them to make a decision, and provides personal attention that says you care about them.
A Very Personal Drip Campaign Few, if any, decision-makers open emails that they can tell aren't for them specifically. They don't have time for generic emails. But most will open a personal email, especially when you've met at a recent networking event or they filled out an interest card at a trade show.
You're just saying "hi," reminding them of their recent encounter with you. With a targeted, specifically progressive succession of these emails, your prospects realize that your company does exactly what it says it does — follow up in a timely manner, keep them informed and serve their best interests.
You become the drip they must address. Persistence is Key If you're like most busy entrepreneurs and small business owners, you don't have time to write a feel-good follow-up email to every possible prospect. Fortunately, tools make it easier.
When you create a drip campaign, all you have to do is write one personal email and let a third party like TrickleTrain handle the rest. The email recipient — your prospect — never knows that hundreds of prospects received the same email because a really good drip campaign effectively personalizes each email.
The recipient sees only your heartfelt follow-up. Each email is targeted to each recipient's needs — and each one hears from you once a week, or as regularly as you need them to. Same Song, Different Day All email drip campaigns follow similar patterns.
The first follow-up email, for example, says that you were pleased to meet and asks how you can be of further help. The second contact (which starts the drip campaign) asks if the prospect got the last message and what kind of timeline he needs.
The third may request a meeting or tout a specific feature of your product or service. The fourth expounds on recent industry trends of interest. Each is short and to the point. Each furthers the relationship you're building.
The drip campaign that works is one where the recipient feels like it's a personal message. The campaign that gets results is one that includes a plan to send out at five to 12 successive emails to each prospect.
That's when you will begin to see amazing results; that's when your company will realize the research doesn't lie when it predicts 80 percent sales growth from a targeted drip campaign. Get started today; see TickleTrain's pricing plans.